If you hadn't noticed that the holiday season has officially arrived, you can certainly tell from this week's list of best bets. A couple of the city's seasonal staples are finding their place on Houston stages this week (with more to come soon), along with new offerings and just a bit of counterprogramming, too. Keep reading to see our picks for the best ways to spend your time this coming week.
In 1970, The Jackson 5 released
Jackson 5 Christmas
, a holiday album one reviewer called "
a potent distillation of the spirit of Christmas, an album joyful enough to make me feel like it's the most wonderful time of the year rather than merely telling me so.
" You can find some of that contagious holiday spirit on Thursday, November 18, at 7:30 p.m. when the
Ensemble Theatre
opens an adaptation of Nate Jacobs's
A Motown Christmas
. The musical revue, directed by guest director and choreographer Keith Tyrone, features music from The Jackson 5, The Supremes, Stevie Wonder, and Gladys Night and the Pips. Performances continue through December 26 with shows scheduled for Thursdays at 7:30 p.m., Fridays at 8 p.m., Saturdays at 2 and 8 p.m., and Sundays at 3 p.m. Tickets can be purchased
here
for $46 to $70.
Back in October, the
Museum of Fine Arts, Houston
, opened a new exhibition, "
Afro-Atlantic Histories
." Now, the museum will open a
film series
inspired by the exhibition with the world premiere of Brazilian filmmaker
Elisa Herrmann
's
Umbanda: Offerings of Faith
. Invented in Rio de Janeiro in the early 1900s, Umbanda is a religion with roots in African, European, and Indigenous belief systems, with "
its own holy figures, such as Preto Velho, or 'Old Black Man,' a wily old slave figure who smokes a pipe.
" Screenings are scheduled for
Friday, November 19, at 7 p.m.
and
Saturday, November 20, at 2 p.m.
and Herrmann will be present. You can choose a date and purchase tickets for $7 to $9. Following Saturday's screening, audience members can also go on a guided tour of the Afro-Atlantic Histories exhibition. The Afro-Atlantic Histories film series continues through January 9.
ROCO
continues their
Connections series
at
Asia Society Texas Center
on Friday, November 19, at 7 p.m. with a string quartet performance of
Huang Ruo
's
A Dust in Time
. ROCO founder and artistic director (and principal oboist)
Alecia Lawyer
recently told the
Houston Press
she viewed the performance "
as a meditation and a journey
," noting that during the performance a mandala – "
a symbolic diagram used in the performance of sacred rites and as an instrument of meditation
" – will be drawn and then erased. It will represent the journey "
from nothingness into fullness and back into nothingness.
" There will be a wine reception and tour of the galleries at 7 p.m. with the performance following at 7:30 p.m. The performance will also be livestreamed on
ROCO's website
,
Facebook page
, and
YouTube channel
.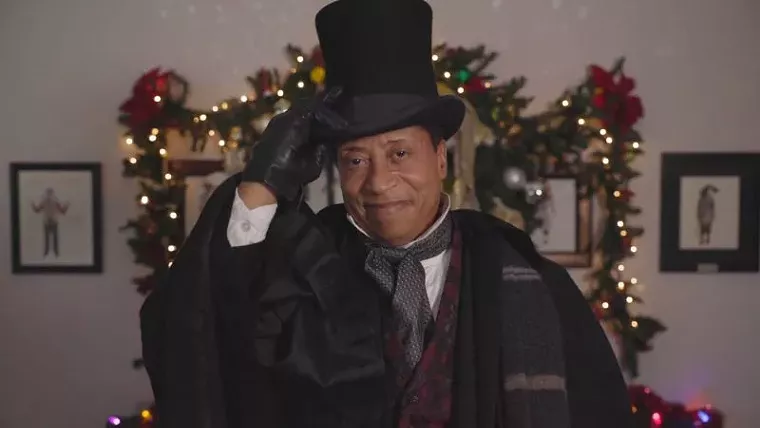 You can once again make your way to the
Alley Theatre
for their annual production of
A Christmas Carol
starting this Friday, November 19, at 7:30 p.m. This year, they'll again stage the
Doris Baizley
adaptation that was first performed digitally last season, a play-within-a-play which finds a short-staffed troupe of actors trying to perform the Charles Dickens classic. Director
Brandon Weinbrenner
told the
Houston Press
that the production focuses more on "
joy and redemption
," and yes,
David Rainey
will return to the role of Scrooge, who the
Wall Street Journal
noted gave "
a splendidly pungent, even salty performance
" last year.
A Christmas Carol
will be performed at 7:30 p.m. Tuesdays through Sundays and 2:30 p.m. Saturdays and Sundays (with additional matinees and no Thanksgiving Day show) through December 29. You can view the full schedule
here
, as well as purchase tickets for $28 to $121.
In 2011,
The New Yorker
noted that
Hélène Grimaud
"
doesn't sound like most pianists
," calling her "
a rubato artist, a reinventor of phrasings, a taker of chances.
" They also stated that "
in the concert hall Grimaud can offer surprises
," so you won't want to miss it when the
Houston Symphony
welcomes the French pianist this weekend to play Maurice Ravel's Concerto in G. The program, titled
Hélène Grimaud Plays Ravel
, also includes Ravel's
Rapsodie espagnole
, Claude Debussy's "Ibéria," and Unsuk Chin's Graffiti, which will be paired with a video by Alex Luster featuring Houston street art. The concert will be performed in-person at Jones Hall at 8 p.m. Friday, November 19, and Saturday, November 20, and at 2:30 p.m. on Sunday, November 21. You can purchase tickets
here
for $29 to $119. Or you can nab a ticket to the livestream of Saturday night's performance
here
for $20.
The Catastrophic Theatre
opens their 2021-2022 season, a return to in-person performance, on Friday, November 19, at 8 p.m. when they open a production of Sarah Kane's
4.48 Psychosis
. Catastrophic co-founder
Jason Nodler
will direct the play, "
a sequence of elliptical fragments, fractured and emotionally lacerating
," that are "
set in a netherworld populated by characters without set identities.
" Exploring depression and suicide, it visits "
a mind in the throes of breakdown, raging against doctors who do not (or will not) understand.
" Performances are scheduled for 7:30 p.m. Thursdays, 8 p.m. Fridays and Saturdays, and 2:30 p.m. Sundays through December 12 at
The MATCH
. Tickets are pay what you can with a suggested price of $35 and can be purchased
here
.
If you were paying attention on March 11 of this year, you may have noticed that the
Doodle on the Google homepage was Astor Piazzolla
, so chosen in honor of the Argentine composer's 100th birthday. On Saturday, November 20, at 7:30 p.m.
Apollo Chamber Players
will celebrate the creator of
nuevo tango
at
The MATCH
with
Piazzolla Centennial
, a performance that not only includes Piazzolla's Tango Ballet on the program, but also two world premieres: one from
Adolphus Hailstork
and one from Latin Grammy winner
Hector del Curto
, which is aptly written for bandoneon and string quartet. Note there will be a Q&A prior to the performance at 7 p.m. You can purchase tickets
here
for $10 to $35 ($40 at the door).
On Saturday, November 20, at 7:30 p.m.
Houston Contemporary Dance Company
will visit
The Hobby Center for the Performing Arts
to perform their latest program, titled
Terra Firma
. The program includes a world premiere from
Joe Celej
titled "Intersections," which is comprised of four movements that can be performed in any order; Keerati Jinakunwiphat's "Viola," featuring music by composers like Benjamin Britten and Philip Glass performed live by special guests
KINETIC
; a duet called "I Give Myself" by
Christian Denice
; and
Margot Gelber
's "Only What You Take With You," a solo piece set to be danced by HCDC's resident choreographer Robbie Moore. KINETIC will also perform "Break Away," a string quartet by Jessie Montgomery. Orchestra seats are still available
here
for $20 to $50.
In a welcome sign of the times – or should we say season –
Miss Bennet: Christmas at Pemberley
is back at
Main Street Theater
. On Saturday, November 20, at 7:30 p.m. Main Street will open a new production of
Lauren Gunderson
and Margot Melcon's
Pride and Prejudice
sequel, which reunites the Bennet sisters at Darcy and Elizabeth's estate and puts a special focus on middle Bennet sister Mary. Actor Chaney Moore recently told the
Houston Press
that "
Gunderson kept all of the charm that Jane Austen created and was able to encapsulate that and put it into her work.
" You can catch
Miss Bennet: Christmas at Pemberley
on Thursday through Saturday nights at 7:30 p.m. and Sunday afternoons at 3 p.m. through December 19. (No show on Thanksgiving Thursday, but an extra one on Wednesday, November 24.) You can purchases tickets
here
for $36 to $55. There's also a plan to stream the show in December, so keep an eye on Main Street's
website
for more information.