Update 9:15 a.m.:
T
he H-E-B Thanksgiving Day Parade has been cancelled this morning because of the rainy weather and thunderstorms in the area.
Before and after stuffing yourself with turkey, stuffing, cranberry sauce, and lots of pie, you'll probably want to be entertained. You know, after the tryptophan wears off. If so, keep reading for a list of the best Houston has to offer this Thanksgiving weekend.
Cirque du Soleil
will give Houstonians a sneak peek of the "
playful humor, captivating dancing, and enchanting songs
" of their show,
Alegría
– which has set up shop at
Sam Houston Race Park
through January 2 –
when they kick off the 72nd Annual H-E-B Thanksgiving Day Parade today, November 25, at 9 a.m. The parade will cover 20 city blocks across downtown Houston, complete with floats, giant balloons, marching bands, Santa Claus and much more. Deborah Duncan of Great Day Houston and KHOU's Ron Treviño will emcee the parade, which will be led by Grand Marshal Dr. Peter Hotez, who's been the go-to vaccine expert on local and national news channels. The parade is free to the public, and you can view a map of the parade route here. (You can watch catch the parade live on KHOU.)
TEATRX
will present the
3rd Annual La Vida Es Cortos/Life Is Shorts Festival
this Thanksgiving weekend, a showcase dedicated to presenting both short films and short plays. The selected plays, presented alongside 17 short films, include works by Angela Estela of
Breath of Fire Latina Theater Ensemble
; recent graduate of the
University of Houston
Rebecca Dominguez; award-winning Josie Nericcio; and
Adrienne Dawes
, an Afro-Latinx playwright who was also featured during
Stages
'
Sin Muros: A Latinx Theater Festival
in 2020. You can also expect performances from Tres Tristes Teatreras, Teatro Pedro, and
The Pilot Dance Project
's Adam Castañeda. You can catch the festival at 7:30 p.m. Friday, November 26, and Saturday, November 27, and 2:30 p.m. Saturday, November 27, and Sunday, November 28 at
The MATCH
. Tickets are available
here
, pay what you can with a starting price of $10.
'Tis the season – finally – to welcome
Houston Ballet
Artistic Director
Stanton Welch
's
The Nutcracker
back to the Wortham Theater Center for a total of 31 performances. On Friday, November 26, at 7:30 p.m. Houston Ballet marks the return of the classic holiday show about a young girl, Clara, who finds herself in the middle of an epic battle between a prince and a rat king and takes an unimaginable journey to the Land of Sweets, where residents where dessert on their heads and human-sized cats stand sentry. Between the "
indulgent
" divertissements, Tim Goodchild's "
sumptuous scenic and costume designs
," and Pyotr Ilyich Tchaikovsky's "
endlessly enjoyable
" music.
The Nutcracker
will run through December 24, and you can purchase tickets for $27 to $200
here
.
Find a little happily ever after over at Jones Hall during the
Houston Symphony
's Thanksgiving weekend concert,
Tchaikovsky's Sleeping Beauty
. Experience Pyotr Ilyich Tchaikovsky's transformation of "
a simple children's story
" into "
a sophisticated parable
" and his "
melodic inventiveness
" during the
Sleeping Beauty
Suite, which closes a program that includes
Samy Moussa
's
Nocturne
, Max Bruch's Violin Concerto No. 1, and selections from Engelbert Humperdinck's opera
Königskinder
. Conductor
Fabien Gabel
will lead the Symphony, joined by violinist
Simone Lamsma
, for concerts at 8 p.m. Friday, November 26, and Saturday, November 27, and 2:30 p.m. Sunday, November 28. Tickets are still available
here
for $34 to $140. Saturday night's performance will also be livestreamed, and you can buy a $20 ticket
here
to enjoy the program straight from your couch.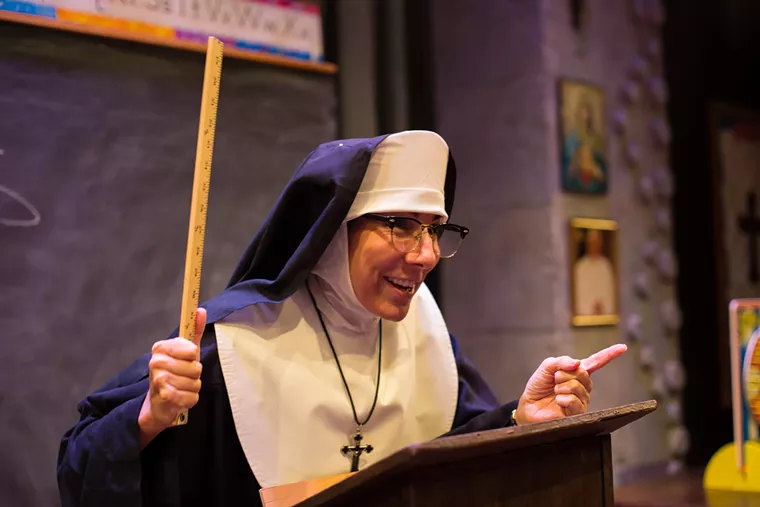 You're probably familiar with the wise men from the East who brought gifts of gold, frankincense, and myrrh to the baby Jesus. And, if you're anything like the good people who bring us the
Late Nite Catechism
series, you've probably found yourself wondering, whatever happened to that gold? On Friday, November 26, at 8 p.m. you can look into the mystery when
Stages
opens
Sister's Christmas Catechism: The Mystery of the Magi's Gold
at The Gordy.
Denise Fennell
once again plays Sister, this time retelling the story of the nativity, in the show by Maripat Donovan, Marc Silvia and Jane Morris. Performances are scheduled for 7:30 p.m. Wednesdays and Thursdays, 8 p.m. Fridays, 2:30 and 8 p.m. Saturdays, and 2:30 p.m. Sundays through December 31. You can purchase a ticket
here
for $25 to $79.
A.D. Players
presents a new holiday offering this season when they open
The Christmas Shoes
on Friday, November 26, at 8 p.m. The commissioned play, adapted by
Jessica Lind Peterson
from
Donna VanLiere
's
New York Times
best-selling novel of the same name, sees a jaded lawyer encounter the son of a woman dying of cancer. A.D. Players Artistic Director
Kevin Dean
recently told the
Houston Press
that it is "
a charming story and a charming play
," one that "
reminds you of what's important in life.
" Performances are set for 7:30 p.m. Wednesdays and Thursdays; 8 p.m. Fridays, Saturdays, and some Sundays; and 2:30 p.m. Saturdays and Sundays at The George Theater through December 26. You can purchase tickets
here
for $25 to $75.
The New Yorker
once called
Christian Tetzlaff
"
a character actor in a field of matinée idols
," saying the German violinist "
prefers to disappear into the sound world he creates onstage
." And speaking of that sound world, Tetzlaff himself said that "
trying to turn lead into gold is nothing compared to taking something mechanical like an instrument—a string and a bow—and using it to evoke a human soul, preserved through the centuries.
" On Tuesday, November 30, at 7:30 p.m.
DACAMERA
will welcome Tetzlaff to the Stude Concert Hall in Alice Pratt Brown Hall at
Rice University
to delve into the soul of Johann Sebastian Bach in
Pure Genius: Solo Bach
. Tetzlaff will play four of Bach's sonatas and partitas as part of DACAMERA's chamber music series. Tickets can be purchased
here
for $42.50 to $72.50.
On Tuesday, November 30, at 7:30 p.m.
Dance Source Houston
's
Mind The Gap
series will return to
The MATCH
with a full slate of works by local dancemakers. The
Pilot Dance Project
's Adam Castañeda contributes a work about the human life cycle,
Group Acorde
's Roberta Paixao Cortes will perform an ocean-influenced solo, and
Amanda Monteith
revisits a "Hot Summer's Night." Rivkah French choreographed a new duet in collaboration with Isabella Vik, who is contributing a work that physically represents bipolar disorder. Duality will also be explored in works from
Alexis Zanety
and Nicola DeVries.
Adele Nickel
and Brian Lawson will re-imagine the traditional ballet
pas de deux
, while
Bones and Memory Dance
's
Heather vonReichbauer
's solo peeks into the mind of
Frankenstein
author Mary Shelley. Tickets to the in-person program, or a ticket to view Tuesday's livestream (on demand through December 6) can be purchased on a sliding pay-what-you-can scale for $15 to $35
here
.